Happy Holidays to all of our business partners and friends!
We hope that all of you are staying warm, safe, and close to loved ones as the year comes to a close.
As we wind 2022 down, the Luxor team is taking stock in all of the work we've put in this year. It was the biggest year for Luxor's growth to date, both for head count and product suite, and we're grateful to all of you for your support during this exciting time in Luxor's development.
Over the year, we've seen:
Luxor headcount grow from 34 to 43
Total BTC hashrate under management grow from 3.37 EH/s to 9.8 EH/s
Content and research views go from 1,000,000+ to 2,000,000+
Pool users grow from 1,900 to 2,300
Now let's have a quick recap of Luxor's 2022 by the news and numbers.
Luxor Is Only as Strong as the Team Behind It
Luxor was built by searching for talent asymmetry, and we can attribute our success so far to the talent we've accumulated. Luxor, by design, will never be the largest team in the world, but the concentration of talent will ensure we remain competitive in the fast-paced mining industry.
We have hired a diverse background of engineers, product developers, designers, and business development associates from around the world. Our talent comes from top software firms like Salesforce, energy firms like Suncor, and financial firms like the CME Group and Goldman Sachs. This year we grew the team from 34 people to 43, a 26% increase in headcount.
Trailblazing a New Frontier for Bitcoin Mining Derivatives
Our biggest launch of the year came in the form of an all-new way to package a hashrate derivative: the Luxor Hashprice non-deliverable-forward (NDF).
Our Hashprice NDF is the first Bitcoin mining derivative of its kind. Since launching, our NDF has attracted trades from miners looking to hedge revenue and professional investors who are looking for synthetic exposure to Bitcoin mining.
We have a lot in store for our Hashprice NDF in the New Year, including BTC-denominated contracts, standardized contracts, and more.
Luxor Launches ASIC Trading Desk, Trading Volume Hits 1% of Total Network Hashrate
We launched our ASIC Trading Desk in January to improve ASIC pricing transparency and hardware procurement logistics for miners and investors all over the world.
The commoditization of ASICs accelerated in 2022, with dozens of new brokers popping up across North America. These trading desks act as market-makers for the OTC ASIC market and we believe that they have an important role to play for providing liquidity to miners to enhance price discovery.
To date, we have traded 3 EH/s of bitcoin miners in deals that span every continent except Antarctica and dozens of countries.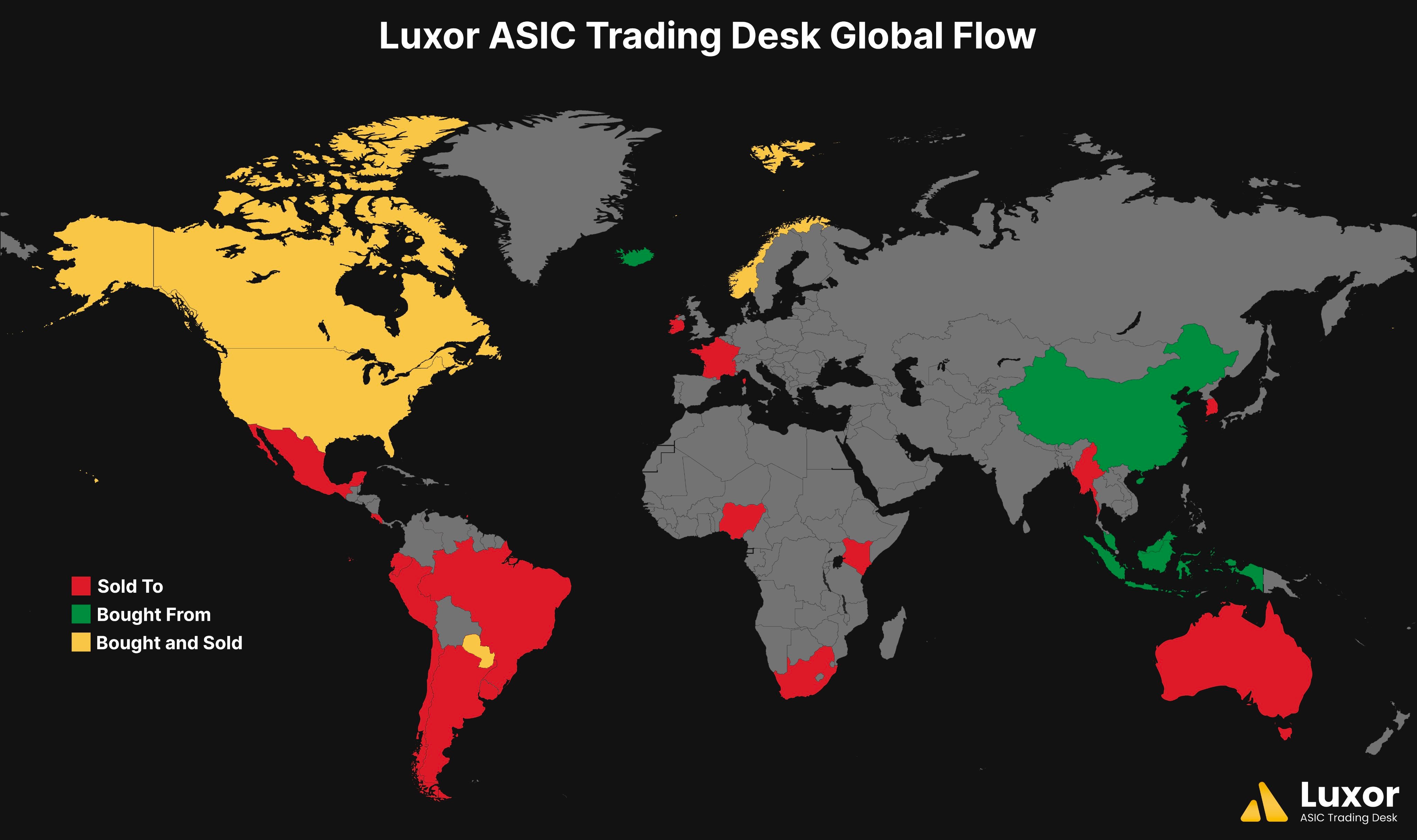 Brokerage Desk, Meet Hosting
In June of 2022, we launched a hosting marketplace to complement our ASIC Trading Desk.
When searching for a hosting provider, miners enjoy the same level of transparency and efficiency with the Luxor Hosting Marketplace that they do with our ASIC Trading Desk. Since launching, we have expanded our hosting partners beyond the US to Canada, Latin America, Asia, and the Middle East.
Luxor's Mining Pool is Rising Through the Ranks
And last (but certainly not least), the nucleus of our business, our Bitcoin mining pool.
Since the start of the year, we have grown our pool's total hashrate by 190% to 9.8 EH/s. We've also improved our pool dashboard UI/UX and added new features like payout splitting.
Luxor Expands Its Global Footprint
While the Bitcoin Network is not fragile, it is important that the underlying infrastructure is as decentralized as possible. This is especially important for geographic and jurisdictional distribution.
Latin America is an exciting emerging market for Bitcoin mining. While there are many challenges to be overcome with local regulations, there is an abundance of stranded energy that Bitcoin mining can monetize. Luxor has been conducting business in the region for the past few years, but it now has a dedicated team to cover the region and to help investors deploy capital. We now work with dozens of companies across Paraguay, Argentina, Bolivia, Ecuador, Peru, Costa Rica, Mexico and more.
Facing its toughest energy crisis to date, Europe has also long been a home of miners, although they have slowly been cornered into Northern Europe (Norway, Sweden and Iceland). These regions have great access to abundant and cheap renewable energy. The climates and business environments of these countries are also primed for data center activity.
In addition to Latin America and Europe, we are excited to explore the Middle East, Africa and Southeast Asia in the future.
Hashrate Index
We've spent 2022 expanding Hashrate Index's datasets and publishing research as well.
We launched an Energy Markets dashboard on Hashrate Index which tracks the Bitcoin Network's total energy consumption, natural gas prices, average US energy prices by sector, and more. We also added a $/PH/s/Day and BTC/PH/s/Day option to our Hashprice Index.
On the research side, we published a year-in-review from 2021, 3 quarterly reports, and a report on resistance levels for hashprice, in addition to over 100 newsletters and blogs. Our research and content has been viewed over 2 million times across Hashrate Index and other platforms.
2023 Will Be Even Better
Bear markets are for building. We have been here before and will be here again, and we know that now is the time to put our heads down and do what we do best: ship new products.
As we enter the New Year, we have plenty in store. In Q1, we plan to release two new product lines: ASIC Firmware and a new platform to trade ASICs.
We look forward to growing in the New Year and continuing our work with all of our business partners and friends by our side.
Happy Hashing, and Happy New Year!
-Luxor Tech Team